Thank you for visiting my webpage! My hobby and passion over the past 30 plus years is studying and testing cold hardy cactus, succulents, and drought hardy perennials for use in the arid regions of the Intermountain West. Initially, my motivation was prompted by the lack of availability and knowledge of these kinds of plants at the local nurseries when attempting to convert my grass covered, water gobbling, landscape into a water wise xeric garden. It's truly amazing the diversity of plant life that has adapted to hot,cold, arid conditions to which are almost unheard of in the public realm outside of the traditional boundries of the Desert Southwest. It is my goal to help educate the public at large the true potential and real beauty of cold desert xeric landscaping as well as make available those plants through garden cultivated seedlings, cuttings or seeds which I've tested and succeeded with over the years. Much of this is still a work in progress and I wish to thank everyone for their support and incredibly positive feedback.

My private nursery is an on-line business only, so in person visits are by appointment only. Call, text, or email me ( best )  to schedule your appointment in advance.

Thanks again for visiting!

Kreg Hines

Cold hardy cactus, succulents, and perennials for the rock gardening enthusiast.

1962 North Sparkling Place

Meridian, Idaho 83646

( 208 ) - 884-1251

email: geodesert@yahoo.com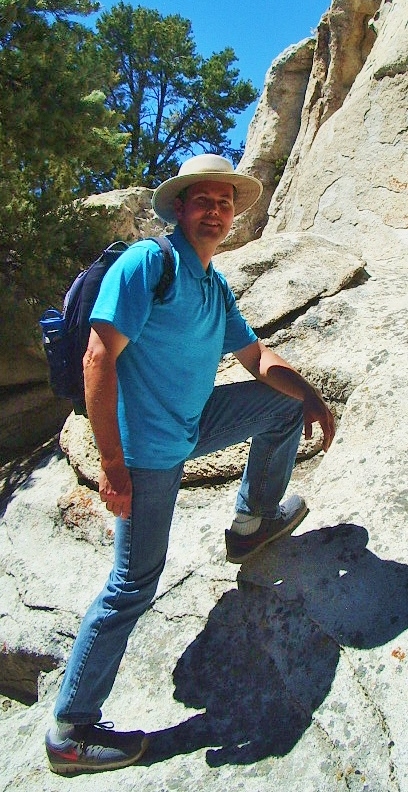 Website Updates:

6/6 - Home Page updated with added "Website Updates" & "Picture of the Week" features.

6/6 - Cylindropuntia imbricata GS105.7 now back in stock as newly rooted cuttings. See Cactus Page 1

6/6 - Three new listings on Cactus Page 2: Echinocereus coccineus var. rosei GS108.4.2,        Escobaria albicolumnaria GS113, & Escobaria missouriensis var. caespitosa GS113.7.1

6/7 - Seasonal price increases for selected prickly pears ( Opuntia ) to account for new years growth. Many rooted cuttings now twice to three times the size of original cutting alone.

7/11 - Salvia dorrii seeds now back in stock, see Perennials Page for details.

7/25 - New cactus listing Coryphantha sulcata now available. See Cactus Page 2 for details.

Picture of the week: Summer cactus flowers, part 2

In last weeks picture of the week I discussed hardy cactus that are "opportunists" in regard to flowering and additional growth in the summer. This week is about hardy cactus that normally flower in the summer as an adaptation to the summer monsoonal rains of the Desert Southwest and northern Mexico. Pictured here is Coryphantha sulcata, bursting into flower in the July heat. Many species of Coryphantha, Ferocactus, Echinocactus, and some Escobaria have representation in the summer flowering group. Their main drawback is that most species lack true cold hardiness in regards to sub-zero temperatures or continuous periods of freezing lasting longer than a week in duration, so their use in the colder zones above 7b ( 7a,6,5 and so on ) is limited without protective measures. Plants of Coryphantha sulcata are now available. See Cactus 2 Page for details.