Thank you for visiting my webpage! My hobby and passion over the past 30 plus years is studying and testing cold hardy cactus, succulents, and drought hardy perennials for use in the arid regions of the Intermountain West. Initially, my motivation was prompted by the lack of availability and knowledge of these kinds of plants at the local nurseries when attempting to convert my grass covered, water gobbling, landscape into a water wise xeric garden. It's truly amazing the diversity of plant life that has adapted to hot,cold, arid conditions to which are almost unheard of in the public realm outside of the traditional boundries of the Desert Southwest. It is my goal to help educate the public at large the true potential and real beauty of cold desert xeric landscaping as well as make available those plants through garden cultivated seedlings, cuttings or seeds which I've tested and succeeded with over the years. Much of this is still a work in progress and I wish to thank everyone for their support and incredibly positive feedback.

My private nursery is an on-line business only, so in person visits are by appointment only. Call, text, or email me ( best )  to schedule your appointment in advance.

Thanks again for visiting!

Kreg Hines

Cold hardy cactus, succulents, and perennials for the rock gardening enthusiast.

1962 North Sparkling Place

Meridian, Idaho 83646

( 208 ) - 884-1251

email: geodesert@yahoo.com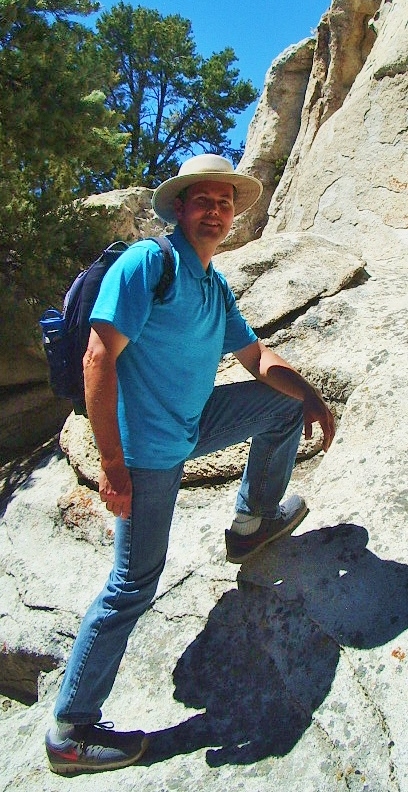 Just another 5 mile hike in progress in the habitat of Opuntia polyacantha var. rhodantha, Cassia County, Idaho.

Pediocactus nigrispinus var. nova. Newly discovered species in Idaho, April 2014.

New discoveries in 2014

Perhaps the biggest news here was the discovery of a new species of Pediocactus nigrispinus. After years of hearing rumors about it we managed to locate this elusive barrel cactus in remote SW Idaho, a place we wouldn't expect to see when considering the nearest known populations are well over 100 miles separated, primality in north central Idaho, Oregon, and Washington. The plants can be quite large, up to 9 inches in diameter as a single head or over 12 inches as a cluster. The spines and flowers are uniquely different, but it has yet to be determined if this is a legitimate new variation.

Pediocactus nigrispinus var. nova, clustering plant.

Good representation of typical spines and flowers.

In addition to the new Pediocactus discovery, my on-going studies of my native pricky pear ( Opuntia ) species here in southern Idaho has continued to yield a great diversity in stem, spine, and flower color variation. I had thought for a long time that I would have to travel thousands of miles to see the more exotic prickly pear flower colors like orange and red shades, when in actuality I've found, and continue to find, all those colors and more on a near local basis. One species alone, Opuntia polyacantha var. rhodantha, I've documented 38 variations in flower color encountered so far and am excited to be making some of these available as rooted cuttings from garden cultivated plants for the first time in spring 2015 with many more on the way.

Here are some examples of new variations found in 2014 in cultivation to be made available later. All are Opuntia polyacantha var. rhodantha.

Light double petaled pink.

Delicate yellow with pink edges.

True orange with pink edging.

Though cold hardy cactus is my speciality, I'm also committed to studying the cold desert perennials which add dimension and diversity to the landscape and should be apart of any desert garden design. These can be just as hard to find at the local nursery since many do not respond well to mass cultivation techniques used in the nursery trade and prefer to be grown from seed directly sown in the ground in the fall. The key is that most desert perennials have deep roots that burrow up to 10 feet or more into the soil to draw up moisture and help regulate temperature during the hot, dry summers of their native habitat which cannot be replicated easily when grown in small pots. Seeds are the best option when considering perennials since most grow quickly in size and can even flower the same year in good conditions.

Salvia dorrii, one of the best desert perennials.